Connected to Our Communities
Imagine moving thousands of miles away from home and meeting a community of smiles, laughter and people like you. The CarMax Foundation and KaBOOM! have teamed up to make this possible by bringing play to military families during our annual Week of Military Play.
Play is important to all children, but for military children it is uniquely important as they adapt to new communities. Many kids experience significant emotional impact when a parent deploys, returns home from military service, or when they move locations frequently. According to Blue Star Families' annual Military Family Lifestyle Survey, 42 percent of military families experienced more than six months of family separation in the last 18 months. When kids face uncertainty or stress, play creates a safe buffer against the change or adversity they experience. Play is crucial for kids to restore normalcy and stay active and healthy.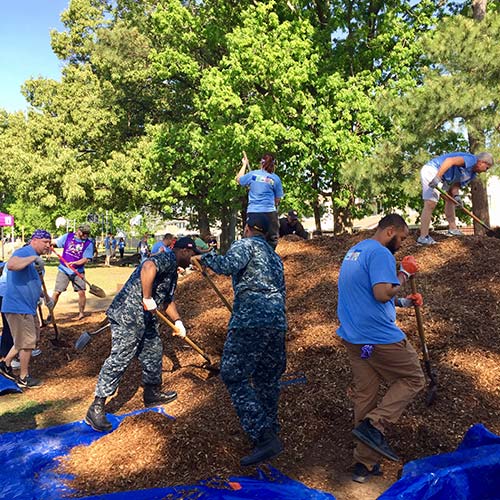 This year we built a playground in Norfolk, Va, a community with a large military population, for kids to explore, imagine and create. We learned first-hand about the power of play for military families at Sewell Point Elementary School. We joined in on the fun as the kids designed their dream playground with colorful swings, adventure slides, two-sided rock-climbing walls and more. Our associates worked alongside hundreds of community volunteers to bring each kid's dream to life.